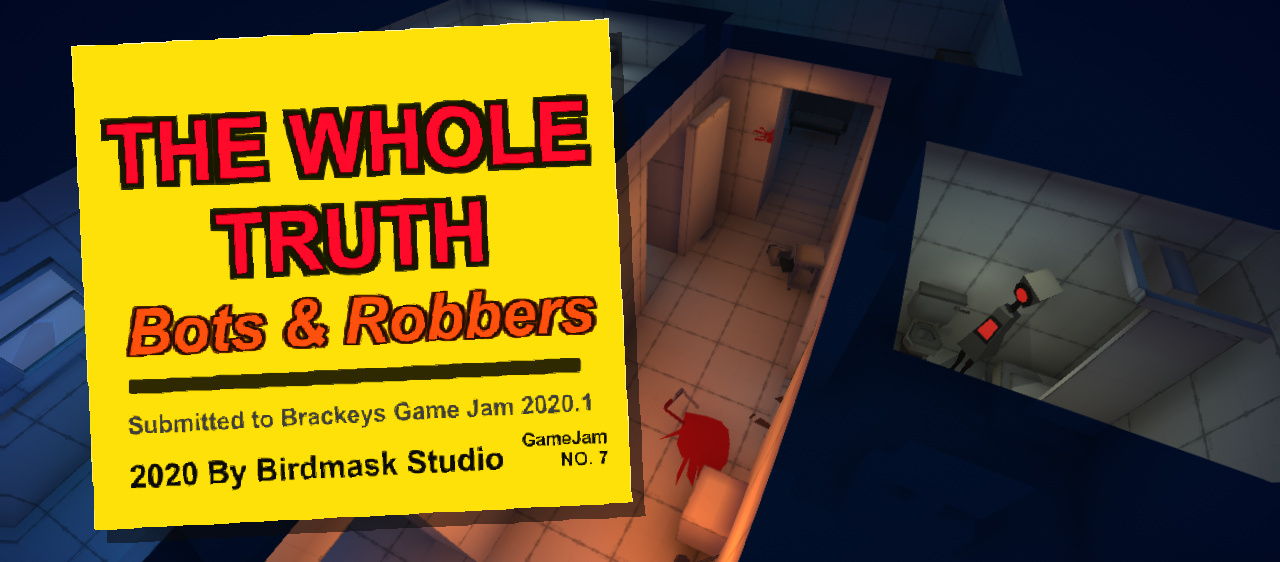 The Whole Truth - Bots & Robbers
A downloadable game for Windows, macOS, and Linux
This case is full of holes, you have one more night to try to piece together the gaps in the story before you run out of time and have to close the case.
Look around the scene of the crime, find clues, connect them together to discover the events that happened here.
'The Whole Truth - Bots & Robbers' is a mystery point & click, made for the 'Brackeys Game Jam 2020.1'.
UPDATE 2: LEVEL ART FOR FULL RELEASE ALMOST DONE!
Detective Game - Level 2: Show Area Turnaround from Birdmask Studio on Vimeo.
UPDATE: FULL RELEASE NOW IN DEVELOPMENT!
We were thrilled with the response our game got this Jam and really think this concept will make a fun detective game givin a bit more work so were are now in active development of a full version of this game. If you want to stay up to update, follow us here and on social media, check the Devlogs and support us by spreading the word, we hope to have a game for you all to play as soon as possible :)
How to play:
Move around the scene and click on points of interest to find 'Clues'.
Go to the clue menu and link together clues to discover new 'Events'.
To solve the case you must find all 10 'Events' and then put them together in the right order to get the whole story, good luck.
Controls:
- Hold/Click LMB to move around the scene.
- When the cursor changes Left click to investigate.
- Hold and Drag RMB to pivot the camera.
Clues Menu
- Drag the LMB to move clues around.
- Hold down the RMB over a clue and then release it over the other clue you want to try connecting it to.
Events Menu
- Drag and drop the event you want to move to put them in the box and order that you want.
The theme of this gamejam is 'Holes'. We went with the idea of a game where you have to fill in the holes in the information to solve the crime, finally leading us to this detective style point and click.
If you like this game let us know, comment, rate and spread the word so we can expand and do more.
To see more of our work, and updates on the development of other future jam entries, check out these links;
https://twitter.com/BirdmaskStudio
https://www.youtube.com/channel/UCzdtmF-1xwfNW11RqQAjkFg
https://www.birdmaskstudio.com/
If you liked this, give it a rating; https://birdmaskstudio.itch.io/the-whole-truth/rate
| | |
| --- | --- |
| Status | Released |
| Platforms | Windows, macOS, Linux |
| Rating | |
| Author | BirdmaskStudio |
| Genre | Puzzle |
| Tags | 3D, Crime, Detective, Low-poly, Mouse only, Mystery, Point & Click, Robots, Singleplayer, Top-Down |
Download
Click download now to get access to the following files:
TheWholeTruth_JamBuild_Pc.zip
21 MB
TheWholeTruth_JamBuild_Mac.zip
25 MB
TheWholeTruth_JamBuild_Linux.zip
28 MB
Comments
Log in with itch.io to leave a comment.
Hey! This is a great game! :) Good job!
A neat interpretation on the game jam theme n I enjoyed playing! I ain't the greatest detective but I finally managed to complete it 😅 super initiative n enjoyable, good job! 😊
Awesome game! We included it in our video if you're interested to see!