Days With Dino
Crabs Vs Birds Round 1 - 13th April 2021 - Development Notes
---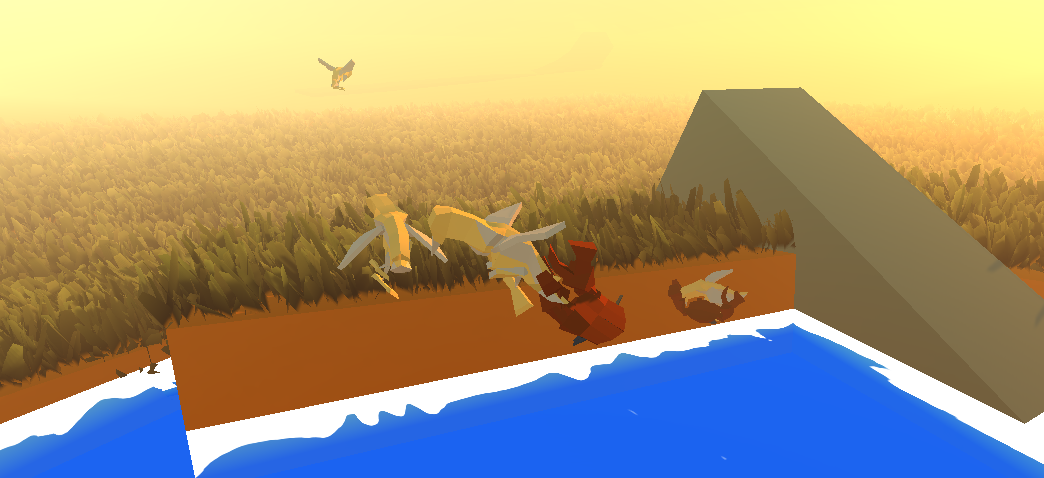 Thought it would be good to start posting small updates on what I'm doing on the day to day for the games development.
13th April 2021
Development Notes:
The Crabs and the birds can do damage to each other.
Crabs and Birds can now die.
The birds can now eat dead crabs.
All bird AI behaviors and actions are implemented at a basic level.
Most Crab AI Behavior is implemented (Just needs eating).
The player can now eat dead mobs.
The player Character 'Baby Dino' is now aware of the concept of death, they just completely ignore it's implications.
I have improved the damage system so creatures can directly apply injury.
Crabs can now continue to attack when latched onto something.
Birds will be slow to leave if caught eating.
Health bar and hunting bar are now visible.
Future Task:
The bird and crab actions are almost all there, but the decision making is messy, I need to pick their brains, clean things up and generalize systems.
Bird take off needs to be clamped to reduce extreme heights.
Need to make a 'Mob Brain Update Manager', that will handle spreading the updating of decision making for mobs over multiple frames to prevent freezes and lags.
Persistent Collision based damage is unreliable, I'll be swapping it out for basic fall detection, and just have the dino tail apply damage based on its general speed on impact.
Biting near a mob should have some level of auto aim.
The Baby dinos controls and movements needs to be updated to handle hunting the smaller mobs.
Basic summary, watching the crabs latching onto birds is funny, and now I can see how the starting AI is acting around each other, I need to clean up their code so I can use it as a baseline for the later game Mob AIs. After the AI is cleaned up, I should look into improving the Player so they can handle said AI better.